To improve the sun protection performance and wearing experience of its arm sleeve products, Beneunder has launched a new "MoveFit+ Dynamic Adaptation" series of products that achieve a balance in four dimensions: ergonomic design, dynamic curve cutting, material selection and craftsmanship. Offers strong sun protection, good feel and a comfortable fit all in one.
View Sun Protective Arm Sleeve Hightlights:

UPF50+, with ≥ 99% UV protection
Soft cloud original yarn fabric
Dynamic 3D fit that follows the movement of the arm
Product Care:
Do not soak
Wash with like colours
Do not bleach or iron
Do not use sharp objects to scratch or pull the fabric
Machine wash on cold using mild detergent
Do not dry clean
• Free Shipping on all orders.
• 30-day Return: Feel free to send your item back within 30 days of receiving the product.
You can review our shipping and returns policy here.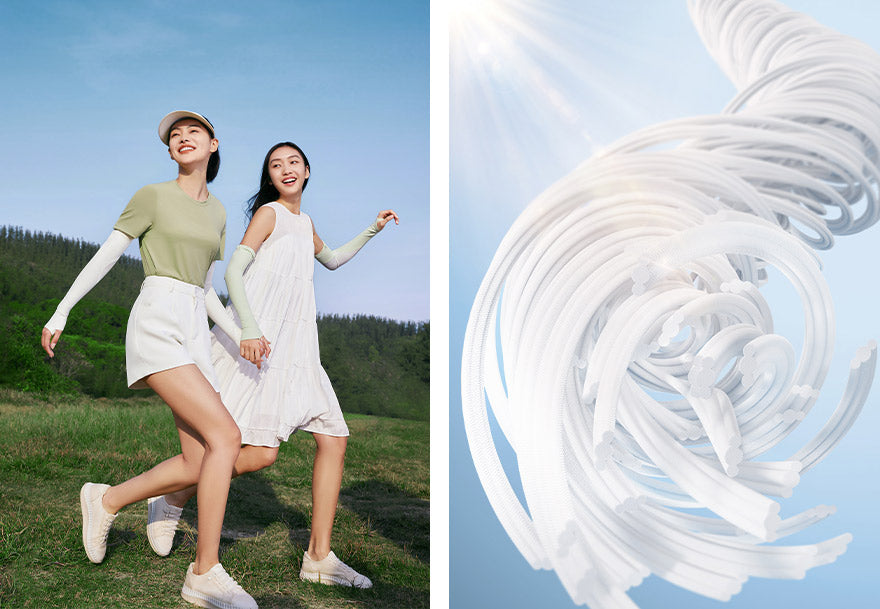 MoveFit+ Dynamic Adaptive Design
-3D stereoscopic design
Ergonomic arm fit
No strangulation from the wrist and arm
-Soft stretch material
Interlocking double layer coil construction
Four-way stretch up to 130%

-Smooth stitching
Boning process stitching
Reduced chafing without leaving marks
AirLoop Cool Technology
The fibre coolness coefficient of AirLoop is 1.6 times higher than the standard value*, providing a long-lasting and refreshing touch.

*Note: The actual value of the fibre coolness coefficient may vary depending on the test standard used.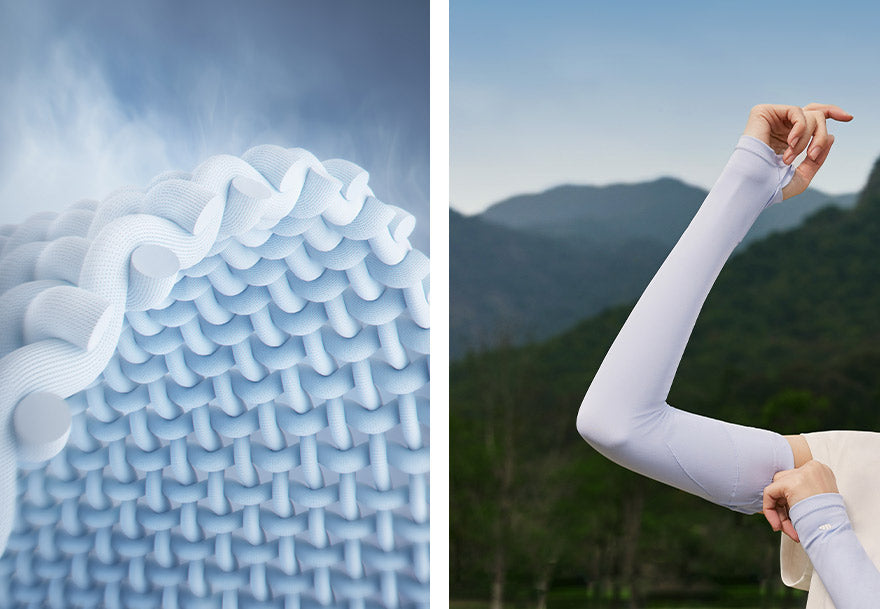 Soft Cloud Yarn Sun Protection
UV protection ≥99%*.

Made from Soft Cloud Yarn, which has a fluffy and porous cloud-like yarn structure that can absorb and block UV rays from multiple angles. The UV Protection Arm Sleeve can stretch up to 130% and retains its sun protection after 30 washes*.

*Note: Actual UV protection and durability may vary depending on the test standard used.